Letter from the Surgeon-in-Chief:

Dear Friends,
During the past two years the Division of Surgery has continued to break its own records both in terms of the number of procedures performed as well as the nature of services provided. We watched the skill of our surgical staff make international headlines, saw our annual number of cases set a record-breaking mark and recruited visionary professionals to The Children's Hospital team. These gains position us well for the future. It is with considerable pleasure that I share these highlights with you.

David R. Clarke, MD
Surgeon-in-Chief
with eight-year-old Hannah
Treating Children: Surgical Milestones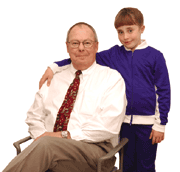 Surgical activity at Children's continued to grow by more than 1,000 cases in each of the past two years. In 2002, we charted more than 13,000 surgical procedures including the separation of the conjoined Stark twins, which was reported in the international press. In May, we surpassed the 200th heart transplant mark. For the past five years, we have had the highest volume of pediatric heart transplants in the country and some of the very best patient and graft survival rates. This winter we also reached the 100th transplant mark in both kidney and liver transplants.

We continue to offer the most advanced surgical interventions for childhood diseases and congenital conditions, such as the Kasai procedure for biliary atresia, the Nuss procedure for pectus excavatum and surgical interventions for the most complex pediatric heart conditions.

The trend toward outpatient surgery at Children's remains strong, accounting for approximately 65 percent of all cases performed. Strategic action and conscientious recruitment have helped us meet the staffing needs of our expanded program, including the need for well-trained dedicated pediatric nurses.

Recruitment of New Surgeons
During 2001-2002, we recruited a number of top surgeons. François Lacour-Gayet, MD, an internationally renowned pediatric cardiac surgeon, is our new chief of Cardiothoracic Surgery. Joyesh Raj, MD, and David Schnur, MD, were both recruited to expand our Plastic Surgery department. David Partrick, MD, joined our Pediatric Surgery group as an expert in minimally invasive surgery. Arlene Drack, MD, a former director of one of the world's top pediatric eye centers, joined our Ophthalmology staff in fall 2002. Brooke Pengel, MD, a pediatric specialist in Sports Medicine will help us meet the needs of kids in one of the most athletically and recreationally active regions in the country. Jill Easton, BDS, MS, joined our Dentistry group as the new director of the Healthy Smiles Clinic.

Advancing Surgical Science: Program Highlights
A formal relationship with the University of Colorado School of Dentistry has resulted in the opening of the Healthy Smiles Clinic. The clinic is projected to reach more than 20,000 kids in the next several years. Thanks in great part to the efforts of Dean Howard Landesman, Associate Dean Randy Kluender, the Children's dental surgeons, and a generous grant from Proctor & Gamble, traditionally underserved kids in the Rocky Mountain region will have access to quality dental care.

The spine surgery program has developed dramatically. The program is a collaborative effort of community orthopaedic surgeons, as well as our Children's-based team. The program partners with Rehabilitation Medicine, Physical Therapy and the Gait and Movement Analysis Center to make sure kids get not only the best surgical intervention, but also the best in rehabilitation therapy before and following surgery.

Other program enhancements have been sparked by advanced technology. Ophthalmology has purchased a retcam system. This equipment isparticularly effective in identifying injuries secondary to shaken baby syndrome. A horizontal YAG laser, ERG and a new vitrectomy instrument expand our ability to treat both simple and complex pediatric cataract and retinal problems. We are also working diligently to bring a surgical robotic system to the hospital. A robotic system will allow us to view the surgical field in true 3-D vision and more precisely perform even the most delicate procedures.

Facilities and Support
In addition to planning operating room and surgical support areas for our new hospital at Fitzsimons, we have been integrally involved in renovating space at our present location to ensure the best care for our young patients. Three new operating rooms were added, including two state-of-the-art endoscopy suites. The Pediatric Intensive Care Unit was enlarged to 31 beds. PICU renovations included 16 private rooms within the unit and advanced computerized monitoring. A dedicated cardiac intensive care unit (CICU) was also established. Staffed by nurses and technicians specifically trained in pediatric cardiac medicine, the unit offers the highest quality patient care. Our network of care has grown dynamically over the past two years. Our newest clinics, located in Broomfield and Centennial, offer a variety of both surgical evaluation and follow-up services. These locations more conveniently serve a widely dispersed metro population and families in outlying areas.

The Division actively supported advocacy efforts to successfully fund graduate medical education for children's hospitals across the country. Additionally, the Kiwanis Pediatric Trauma Institute and our safety and prevention staff were instrumental in the passage of Colorado House Bill 1070, the Colorado booster seat law.

Making Miracles Happen: Our Future
Over the next few years, expanded partnerships with hospitals and surgical programs throughout the region and nation will promote collaboration and help advance pediatric surgical science on a broad scale. Development of a complexity scoring system will help pediatric cardiac surgeons across the globe realistically compare patient outcomes and help us determine even better surgical interventions for our young patients. Planning our move to Fitzsimons will contribute to the development of a world-class medical campus that will include two nationally ranked hospitals, more than 600,000 square feet of research space and the University of Colorado schools of medicine, nursing, dentistry and pharmacy.

I am happy to report that the state of the Division of Surgery is very strong. We remain committed to treating children, advancing surgical science and creating an environment for making miracles happen.

Sincerely,



David R. Clarke, MD
Surgeon-in-Chief